OWL-O-WEEN SHIRT
Shirt design created for a National Aviary Halloween event. A combination of water color textures, hand painted typography, photo manipulation, and digital painting in Photoshop.
FEDE PASTA RESTAURANT
To give this restaurant a unique entrance wall I handcrafted the company name using letters made from 124 gnocchi boards previously utilized to make their signature pastas. This approach produced both a great earthy worn look, and upheld a great bit of symbolism. I hand painted the background logo and arched type to complete the look.

SOUTHPAW HOME BREWERY
Distressed logo for a small home brewery in Morgantown, WV. Click here to view the digital concepts.

CHIHUAHUA CHALKBOARD
One of many chalkboard illustrations I did for Giant Eagle Market District. This particular piece was for the small dog section, and was created from a reference photo of my older brother's dog Maxwell.
BOOK COVER
Cover design for "Year 13", a book of poetry and prose written by Johann Lynge. Available on Amazon now.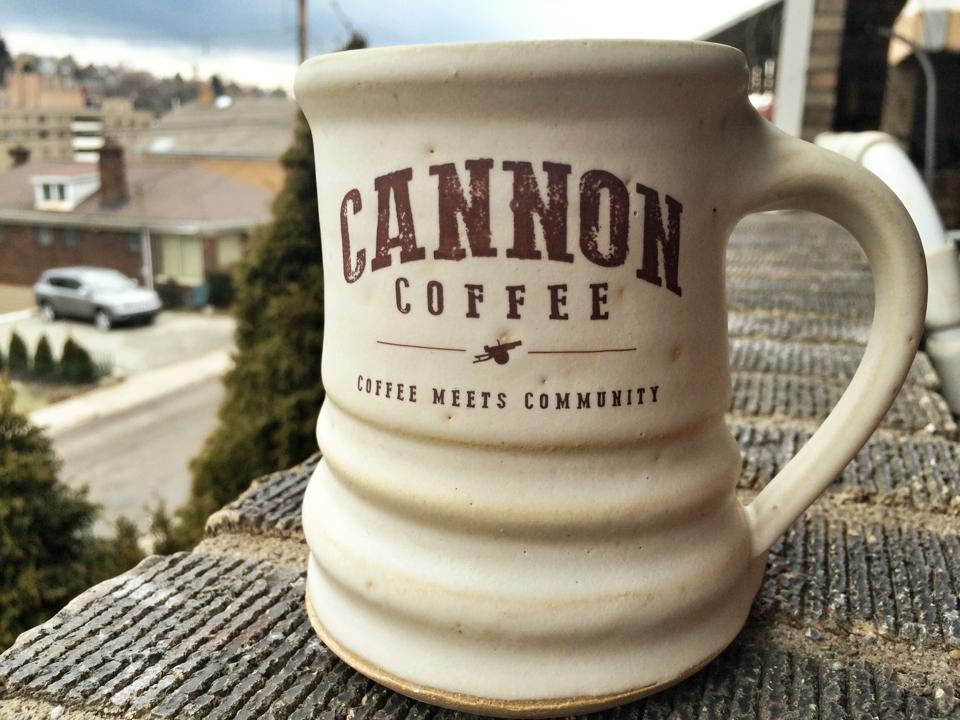 CANNON COFFEE
Personally responsible for digital design and print media, handcrafted in-store signage, custom made merchandise, social media/marketing efforts, production of ADA compliant signage, and communication with customers/community organizations.
BETTA WATERCOLOR
4"x6" Ink and watercolor pencil drawing/drip painting done by hand.
DIGITAL PORTRAIT
Using Illustrator I built multiple layers of vector shapes over a reference portrait I photographed to create a unique visual style. I then placed this vector art on to a skateboard mock-up designed via Photoshop.

FORTH OF JULY CARD
A pop-up card created for fun to send to friends, family, and clients. It started, like much of my work, as a sketch I then scanned into illustration to use as the basis to create the final vector images and design.

NEWSLETTER COVER
This illustration was created to grace the cover of Market Districts monthly newsletter. The hamburger and shake where both hand drawn with pencil. I then scanned, cropped, and placed those drawings in Photoshop were I digitally added color and some final touches.

BIKE PITTSBURGH SHIRT
I always like to create my own reference material whenever applicable, and this is design is no exception. The bike image was created using a picture of my own, and the bike tread was created by running a mountain bike tire coated with ink over a long sheet of paper. After some designing/editing in Illustrator and Photoshop this is the finished result.

BLACKLIGHT BANNER
Created in Photoshop to be used as a Facebook cover photo and banner for the bar/club the Blacklight District.

PERRIER WATER SURFBOARD
This illustration was made on a full size fully functional surfboard. I applied a layer of chalkboard paint on top to allow easy change of the price point and because eventually the surfboard would be erased and reused for another product or event. The finished product hung from the ceiling over a display of stacked cases of the water.
LUAU FLYERS
Half page flyer printed in a multitude of colors to promote a luau event. Created in Photoshop and Illustrator.

DOG ILLUSTRATION
Illustration created on kraft card stock using black and white colored pencils.
TAILGATING PROMO
These faux license plates were created to hang at each checkout register as a means to drive Market District's current promotional message. They were printed at actual license plate size and double sided. Created entirely in Photoshop.

WINE CHALKBOARD
Large chalkboard illustration created by hand to hang above a selection of barwares.

DIGITAL ILLUSTRATION
Digital illustration created from a sketch in Illustrator.

VECTOR CAR
Car created entirely from vectors in Illustrator utilizing a variety of different opacity filters and gradient mesh.
LIL BUB
Part of a series of pet portraits done in color pencil.
JONES DISPLAY
This Jones Soda display was created mainly from black acrylic. The main box shape was laser cut and the curve behind the bottle was shaped by hand. The tagline and body copy were laser etched and then coated with white paint. The Jones logo and colored bottles on the left were printed on tracing paper and a light inside the box illuminated them.

CITRUS SIGNAGE
Large hand painted wooden sign for a new Market District store in Solon, OH.
CLICK TO VIEW